Photo: Sue Simenc
Cuyahoga Connections: Earth Day
Welcome to Cuyahoga Connections, Volume Eight
This instalment of the Cuyahoga Connections takes Earth Day to the next level with plenty of activities you can do to honor our planet. Learn about salamanders and their impact on our park, complete our most interactive journal yet and work on a fun activity that might just take you a full year to complete!
Don't forget to reach out to us with questions, comments or to share your experiences and completed journals by sending an email to connect@forcvnp.org or tagging #forCVNP on your social media posts!
The Great Smoky Mountain Salamander Ball allows you inside the adventures of Sara, a young lady visiting the park with her family. Imagine her delight when she is the first human to witness the Salamander Ball! When the salamanders realize they've been discovered they make Sara an ambassador. Her job is to share information about the salamanders and the park with other humans. How will she do this? She becomes a park ranger of course!
Twenty-four Salamander species call Ohio home including the red-spotted newt, Northern Dusky, Redback, the Northern Two-lined, and the Hellbender. Hidden from sight most of the year, many can be seen during their spring migration as they make their way to vernal pools and ponds to mate.
Like other amphibians, salamanders can breathe and absorb water through their thin skin. This makes them a wonderful indicator of the environmental health. If you see salamanders in the area, it's an indication that pollution is low. But be gentle if you come across them and fight the urge to pick them up. Chemicals on your skin can harm these thin skinned sensitive salamanders.
Which animal that lives in Cuyahoga Valley National Park do you find most interesting?
Journal About It!
There's only one planet Earth, and it is certainly worth protecting and celebrating! Celebrate recent successes with a Cuyahoga River photo comparison chart, learn about salamander safety, become an archaeologist and soak in some Ohio history. This journal just might be our most interactive one yet. Don't forget to share your creations, like your one-of-a-kind tree or arrowhead, by sending a photo to connect@forcvnp.org.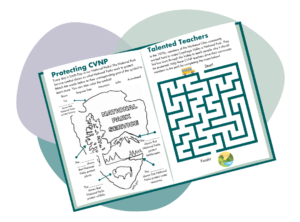 Challenge
Celebrate Earth Day by building your very own compost bin or jar! This challenge is a great family activity; kids can get creative turning an old jar or container into a compost bin and adults can help poke holes in the lid and find items to put inside. Check out the step-by-step instructions below.
It only takes a few minutes to make your own compost bin. Be sure to use proper safety measures and only have adults use power tools like a drill.
Don't forget to send us a photo or video of your creations! You can tag us on social media, use #forcvnp or send us an email at connect@forcvnp.org. We can't wait to see what you create!