Photo: Addison Jones Photography
Introducing Pop-Up Park Weddings
A pop-up wedding is a stress-free solution for a small, intimate wedding focused on the couple and their love for one another. Whether your original wedding plans have been impacted by COVID-19 or you're just a fan of small weddings, this is a beautiful opportunity to marry the love of your life in Ohio's national park! Just show up dressed and ready to exchange your vows—the rest is already handled! Learn more here.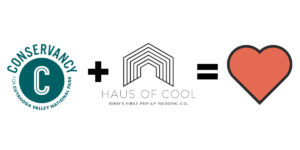 Plan Your Wedding Risk-Free
Many things are uncertain right now. Your love for your partner and your connection to your national park are not. Plan your wedding in Cuyahoga Valley National Park risk-free with refundable deposits for dates booked in 2020 and 2021. If your plans are derailed due to hardship caused by COVID-19, we'll issue you a full refund, no restrictions.
New dates available beginning April 1, 2020.
Listen up, lovebirds
---
Your national park wedding awaits.
Book your wedding today! Our stunning venues are complete with rustic details, customizable décor, and breathtaking views –all within your one and only national park.
Brian + Joelle Hunsaker Photography
More Than Your Venue
---
Nestled in the 33,000 acres of Cuyahoga Valley National Park, Happy Days Lodge and Hines Hill Campus provide an idyllic backdrop for your most special day. Surrounded by rolling meadows and woodland vistas, our historic facilities present an ideal setting for your special moments to unfold.
By booking one of the Conservancy's venues, your wedding will help support trails, volunteers, and outdoor education in Cuyahoga Valley National Park. After your event, you can come to the park and beam with pride when you see volunteers planting trees, or youth experiencing the wonders of nature at the Cuyahoga Valley Environmental Education Center. You will be part of the story of a generation committed to preserving Cuyahoga Valley National Park – for all time, for all people.
Carman & Pugh Photography
Attend an Open House
Join us to tour our extraordinary spaces! Feel free to take pictures and visualize your big day. Staff will be on hand to answer questions. No appointment or registration needed during the open houses. Drop in when it's convenient for you!
Wednesday, September 23 from 4 pm to 7 pm
Wednesday, October 14 from 4 pm to 7 pm at Hines Hill Campus
Special Event October 14 at Happy Days Lodge: Beloved Bridal Show (pre-sale tickets are FREE)
To ensure the safety of our guests and staff, we are asking that all groups remain at 4 people or less in attendance and maintain a 6ft social distance. Facial coverings will be mandatory at our open houses as a result of the Level 3 COVID-19 emergency in Summit County.
You can also take a video tour of Happy Days Lodge or Hines Hill from home!
Happy Days Lodge: 500 W Streetsboro St, Peninsula, OH 44264
Hines Hill Campus: 1403 W Hines Hill Rd, Peninsula, OH 44264
Nathan and Amanda Photography
Featured Blog: How to have an earth-conscious wedding in Cuyahoga Valley National Park
Fact: Weddings are wasteful.
If you are passionate about reducing the ecological impact of your special day, read our tips for how to have a green wedding in CVNP.