Stanford House & Stanford Trail
At A Glance
Hilly, unpaved trail with several very steep sections.
Getting an early start is on every trekker's wishlist. Waking up in the park at the Stanford House—a historic home built in 1843 that can house up to 30 people—makes many great day-long explorations of the Valley even better. With nine private rooms, whole-house rentals (available year-round), and individual room rentals during peak summer months, this home base is an ideal starting point for many adventures. What's more, the property is steeped in farming history (by the 1880s, settler George Stanford had cultivated around 100 acres here) and is a stone's throw away from the gorgeous Brandywine Falls via the nearby Stanford Trail.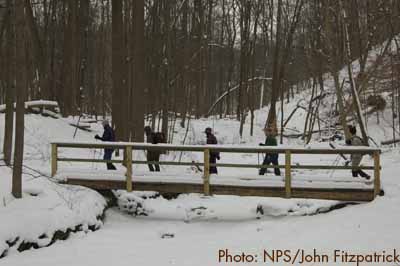 Directions
From the north, take I-77 south to Miller Rd. exit. Left on Miller Rd. to Brecksville Rd., Right on Brecksville Rd. to Snowville Rd. Make a left on Snowville Rd. until you reach Riverview Rd. Take a right on Riverview Rd. to W. Boston Mills Rd., then make a left. Continue on W. Boston Mills Rd. to Stanford Rd. Left on Stanford Rd.; site and parking will be on the right. From the south, take SR-8 north to E. Boston Mills Rd. exit. Proceed west on E. Boston Mills Rd., across the I-80 turnpike and across I-271 to Stanford Rd. Make a right on Stanford Rd.; site and parking will be on the right. Entrance to the park is free; fees for special programs and additional accesses may be required. Tickets are required for the Scenic Railroad.
What Makes it Great
In addition to its proximity to Brandywine Falls, Outside of that "stone's throw" to Brandywine Falls, the Stanford House shares contiguity with nearly everything that a visitor would want to see, do, and explore in the area: from the Cuyahoga Valley Scenic Railroad, Trail Mix Boston, and Boston Store Visitor Center, to retail, dining, downtown Peninsula, and the Towpath Trail. The Stanford House is equipped with modern amenities such as community restrooms with showers, a fully-equipped commercial kitchen, Wi-Fi, and on-site parking. Bringing the contemporary together with conservation means that friends, families, and other groups can enjoy a higher level of comfort without having to leave the grounds. For those looking for a more rustic experience, there are five back-country campsites nearby to choose from.
Who Is Going to Love It
Stanford House is an ideal space for friends, families, and many different types of groups since the house sleeps up to 30 people. There is a wheelchair-accessible room and bathroom. For those looking for the park experience with a few creature comforts, Stanford House is a perfect fit. This peaceful space is welcoming to anyone needing an escape.