Every day, CVNP's Volunteer Management Office (co-managed by the Conservancy and National Park Service) works with volunteers who dedicate their time to our national park. Volunteers have an impact all over the valley, whether by planting trees, pulling invasive species, or teaching visitors about their national park.
Regardless of the task, volunteers are a key part of the successes and achievements all around Cuyahoga Valley National Park, as they work to build a community of park stewards. Recently, one volunteer witnessed a magical moment at Brandywine Falls between long-time Wildlife Watcher Bob Yehle and a young park visitor.
One day earlier this fall, volunteer Sue White was shadowing Bob, who has been a park volunteer for over six years and a Conservancy member since 2007. Bob is an experienced Wildlife Watcher—that is, a volunteer who spends time stationed in popular park destinations to help visitors learn about the park's wildlife and other natural resources.
Bob and Sue were stationed at Brandywine Falls, when a mother and her daughters—two toddlers—approached to chat. One daughter, around four or five years old, looked up at one of the rocks on the Wildlife Watchers display and asked, "What makes these rocks so special"
Bob sank to his knees and spent the next 20 minutes talking with the girls, sharing the reasons why this rock was so special to our area. That's 20 minutes talking about rocks—with toddlers! It takes a truly passionate volunteer to make that time meaningful, as Bob did in this case.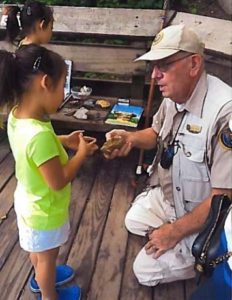 Sue White snapped a photo of volunteer Bob Yehle talking to his captivated audience about the "special rocks" of CVNP
The rock the young visitor had pointed out turned out to contain a fossil, so Bob spent some time talking about the ancient geology of the valley. According to Bob, "She just had many very good questions, and one answer led to a barrage of questions. I was truly amazed at her level of understanding and attention."
These magic moments are possible thanks to dedicated volunteers like Bob and so many others who give their time and talents to CVNP. In this case, Bob may have inspired a future geologist or environmental steward.
We're tremendously grateful to all our CVNP volunteers. They are helping to preserve and protect CVNP, as well as inspiring the next generation of park stewards. Here at the Conservancy, we're honored to work alongside such an inspiring and enthusiastic crew.
Want to make a difference of your own? Find a volunteer opportunity in CVNP >