By Andrew Pegman
It was my birthday in early November, and my son and I were dressing for a vigorous morning hike at Cuyahoga Valley National Park (CVNP). Word had spread the day before that Evening Grosbeaks, migratory birds that I longed to see in person, had touched down and been spotted near the trails.
It was a crisp fall day, the kind of day that almost made the long Ohio winter worth it. The sky was blue, and the sun shone brightly as we arrived at the trailhead. I grabbed my binoculars and camera and took the hand of my young birding buddy as we started to hike.
The crisp air and sunshine energized us as we scanned the woodland scenery. Hope and excitement filled our hearts as we caught glimpses of native bird species flitting from branch to branch.
Of course, birders know they only occasionally see the birds they hope to see, particularly when setting out to seek a rarity. Birds spotted in one location could be long gone by the following day. So, as we hiked out on the trail, we made our minds up to enjoy the hike no matter what. It was a beautiful day to breathe fresh air and enjoy nature, and if we got to catch a glimpse of the grosbeaks, that would be a nice bonus.
After a mile or so of hiking along the trail, we paused to take a few pictures along the bank of the Cuyahoga River, which gleamed and dazzled in the sun. As we captured the scenery of an idyllic fall day in Ohio, we didn't see any signs of the grosbeaks, so it appeared unlikely we'd get a chance to spot them. Nevertheless, we continued our journey down the trail, all the while checking the thickets, trees, and tangles for a glimpse of the brilliant black, white, and yellow plumage that distinguishes the male of the species.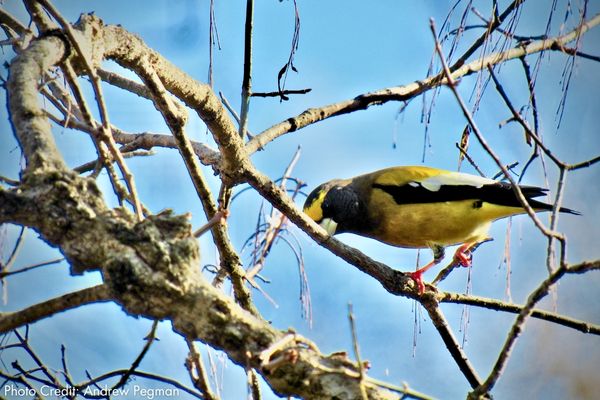 We were reaching a split in the trail, and we stopped at a small tributary where the path diverged in two directions. My son grabbed my arm excitedly and pointed to a flurry of activity in a small nearby tree. In that tree were around eight Evening Grosbeaks hopping from branch to branch and feasting on seeds.
The sun illuminated their plumage, so they shone like citrine jewels against the bright blue sky. My son had been holding the binoculars and was locked into their movements. He reached out for a high five and said, "We found them!"
Indeed, I was able to spend 30 minutes of my birthday watching beautiful birds with my son. He looked up at me and said, "That's a pretty good birthday present, Dad." I flashed back to when he was in a stroller, and we watched a vibrant black and gold American Goldfinch atop a thistle. Now my son was holding the binoculars, but I still held his hand as we walked back together.
Each bird we see is a gift but sharing that gift with someone we love creates memories that last a lifetime.
About the Author
Dr. Andrew J. Pegman is a professor of English at Cuyahoga Community College in Ohio. His teaching and contributions in the classroom earned him the Distinguished Faculty Award from the American Association of Community Colleges. He's been published in National Geographic, Field & Stream, Outdoor Life, TROUT, In-Fisherman, The Drake, American Angler, Kayak Angler, Paddling Magazine, the Plain Dealer, Ohio Outdoor News, the Ohio Cardinal and the House Wren (Cleveland Audubon), as well as for SUN Newspapers and Cleveland.com and others. A story he wrote for American Angler was recognized in The Best American Sports Writing 2020 as a "Notable Selection," and the Outdoor Writers of Ohio Awards awarded him first place for Magazine Writing in 2020, among his other awards for magazine, internet and newspaper writing.