Andrew Gacom
Current Projects
The Conservancy is continually striving to enhance Ohio's national park. Here's what we're working on now: Riverfront Project & Stanford Trailhead.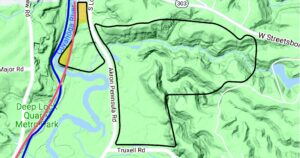 Property boundaries outlined in black
Conservancy Riverfront Project (Former Brandywine Golf Course)
The Conservancy for Cuyahoga Valley National Park purchased the 213-acre property in September 2021 with the plan to sell 198 acres to the National Park Service and retain 15 acres for Conservancy programming.
The property sits on both sides of Akron-Peninsula Road and the Conservancy's 15 acres are on the west (river) side of the property. We are forever grateful to our individual donors and private foundations for their incredibly generous gifts to secure the property and the five foundations that stepped forward with recoverable grants to help us bridge this purchase.
The property is currently closed to the public for safety and liability reasons. Mother Nature quickly reclaimed the land, eroding many of the original cart paths. Tees, greens, and fairways are overgrown, and we have some trees down as well. The property is slated for remediation work starting in early 2023 (depending on weather).
For more information about the project, please contact:
Frequently Asked Questions
What does remediation mean?
Remediation, in this case, means the removal of contaminated soil. Sampling on the property identified the presence of mercury in the shallow soil of the tee boxes, putting greens and some fairways. The use of fungicides and herbicides containing mercury dates to the 1950s and continued through the 1990s. These products were routinely applied multiple times per year using industry-standard practices and applicable product label information.
Mercury is a cumulative bioaccumulative toxin in wildlife, meaning that once ingested, mercury is not excreted but accumulates in fatty tissues and organs. Wildlife potentially affected include animals that are consumed by "top of the chain" predators (raptors, for example, that prey on shrews and voles).
What is the process and how much will it cost?
The process is called a dig and haul. A firm with a background in handling toxic waste will dig down and remove the soil. Further sampling and testing will indicate whether we must go a little deeper or broader or tell us that the area is clean enough to meet the required National Park Service standards for becoming a part of the national park. Mercury in this form is relatively immobile and there is no threat to humans on the property. The contaminated soil will be taken to a landfill equipped and approved to accept this kind of soil and it will be managed there in perpetuity.
The Conservancy was awarded a $4.5 million Brownfield Grant from the Ohio Department of Development. This grant will enable the Conservancy to do the work quickly and without donor support.

What happens after remediation is complete?
The property becomes part of the park! Most of it will belong to the National Park Service and a small piece will be owned by the Conservancy. Both agencies are working together to develop plans for the space, and both are very excited to give park visitors more access to the Cuyahoga River and the State of Ohio's 13th official Water Trail. This designation identifies over 90 miles of the river with 24 current access points (and plans to increase with this property!) that encourage public use of waterways, promote ecotourism, and encourage conservation.
The National Park Service is already beginning to look at the conservation needs on the property. Plans include restoration of two streams that were channeled and buried to assist in creating fertile farmland and later a golf course. The park will monitor the site's plants and animals, and take steps to protect and improve habitats.

What about plans for visitor amenities?
The Conservancy engaged PROS Consulting from Indianapolis, Indiana the fall of 2021 to complete a conceptual plan for the acreage on the west side of Akron-Peninsula Road. Input from Conservancy board leadership, Conservancy staff, National Park Service staff, community stakeholders, and partners was used to help create a vision for this area. That vision includes: increasing opportunities for river access, supporting creative programming, and welcoming new, diverse audiences to the national park. It suggests possible amenities such as accessible trails, access to the river, beautiful river vistas from pavilions and nature play spaces, space for public programming, and a bridge connecting to the Towpath Trail.
The next layer of planning is to look more closely at the site and establish a site plan in coordination with community/public input to allow us to prioritize projects and raise funds to activate the site.

It is taking forever – how long before I can get out there and explore?
The Conservancy recognizes the excitement surrounding the new property. We know people are eager to explore and enjoy it and we want to share it as soon as we can. We are moving as fast as we can through a thoughtful and manageable approach that will add depth and value to Cuyahoga Valley National Park for generations to come.
We look forward to sharing more with you after we complete the next phase of planning. We are grateful for your patience and support!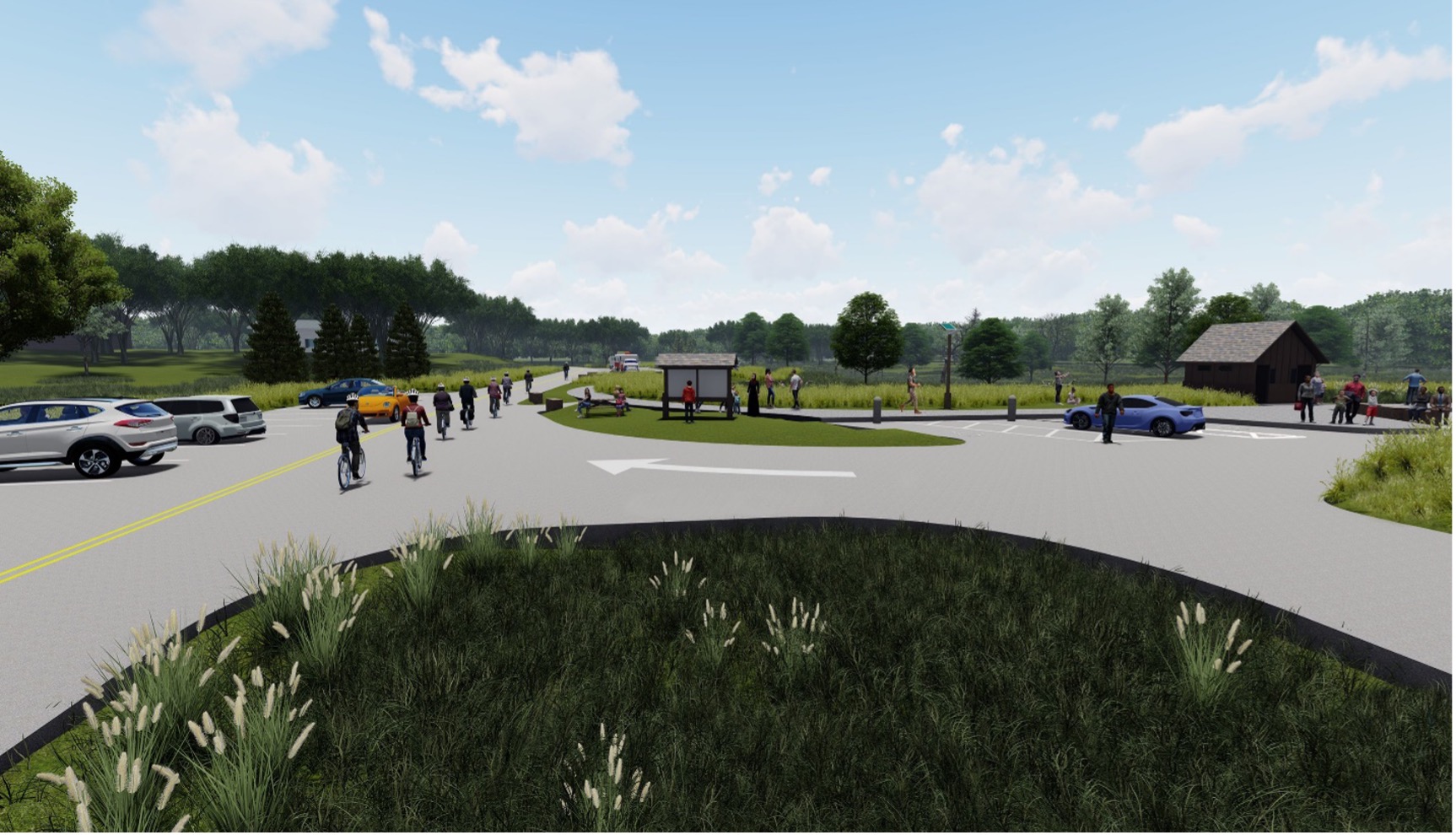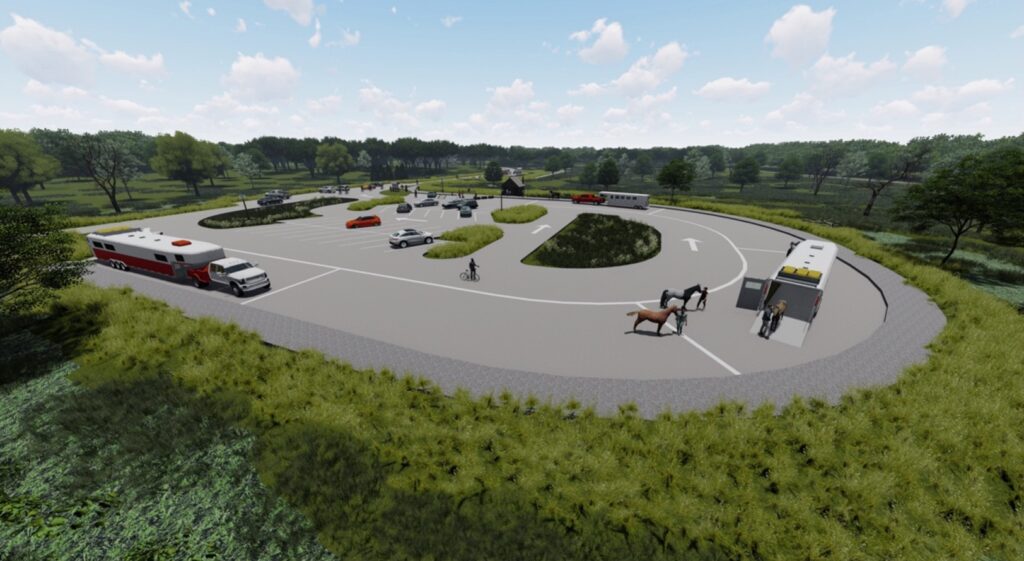 Stanford Trailhead Project
The Conservancy is pleased to join Cuyahoga Valley National Park (CVNP) in this exciting project to bring a new hub for hiking, running, biking and horseback riding in the Boston to Station Road area. With over 2.8 million visitors in 2020 and continued high visitation numbers Cuyahoga Valley National Park needs more trailhead facilities including parking. CVNP has announced a $500,000 matching grant award from the National Park Service (NPS) Centennial Challenge fund to build a new Stanford Trail head on Stanford Road to meet the demands of this vital urban national park.
For more information, please contact:
The Stanford Trailhead will be a new gateway for activities and visitor amenities such as:
• Convenient access to Towpath, Valley Bridle Trail and Stanford Trail leading to Brandywine Falls
• A new connector trail to the Stanford Trail from the parking facilities
• Additional parking for Boston area amenities such as the Boston Store and Boston Mill Visitor Center
• Easy access parking to hike north along the Towpath Trail towards Jaite Mill and Brecksville Station – enjoy wildlife and birding
• New Trailhead signage and wayfinding
• 5-7 horse trailer parking spots
• 38-58 visitor parking spots
• Vaulted restroom facilities
Sustainable features at the new Stanford Trailhead include:
• Solar powered lighting
• Sustainable stormwater management with above-ground retention ponds. Stormwater released slowly back into the natural environment
• Minimize environmental disturbance by reuse of existing roadbed
The preliminary budget (prior to construction bids) is $1.2M for the New Stanford Trailhead. As the official philanthropic partner of CVNP we are delighted for the opportunity to take part in this unique public/private partnership with the park. The $500,000 National Park Service Centennial Challenge enables the Conservancy to leverage all gifts dollar-for-dollar to improve visitors' experiences and supply greater access to the public trails appreciated by so many. The Conservancy welcomes investments in the Stanford Trailhead project – enabling us to meet the $500,000 NPS Centennial Challenge.