YOUR NATIONAL PARK GIFT SHOP
---
Help support Cuyahoga Valley National Park through your purchases. At Trail Mix, our knowledgeable staff can help enhance your park experience by sharing with you hidden gems and well known iconic locations. Find gifts, apparel, local food, children's toys and more in store. Stop by for a snack after your hike or bike ride, and pick up a keepsake to remember your day in the park or a gift for someone special. Plus, sale proceeds directly support Cuyahoga Valley National Park programs.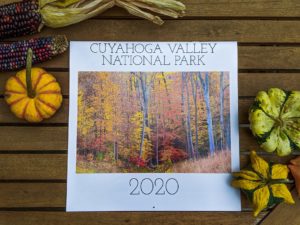 Celebrate each month of 2020 with gorgeous photos of YOUR national park! Visit us at Trail Mix Peninsula or the store at Boston Mill Visitor Center to pick up your calendar today. Can't make it to the store? Give us call at 330-657-2091 or mail us this completed order form.
Photo: Zaina Salem
Trail Mix Peninsula
Address: 1600 West Mill Street Peninsula, OH 44264
Phone: 330-657-2091
Hours: Mon thru Sun – 10:00 a.m. to 5:00 p.m.