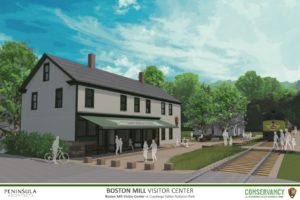 The Need in Cuyahoga Valley National Park
The visitor from New Hampshire who was puzzled by what to do in the park was driving to a conference in Dayton and stopped by the park because he is a "collector" of national park passport stamps. So far, he has visited about half of America's 59 national parks.
He knew there should be a visitor center at Cuyahoga Valley, since he finds them at other national parks, but not finding one here, he and his wife went to the Conservancy's Trail Mix store in Peninsula. There a volunteer sales clerk took them to a table, spread out a map of the park, and circled sites that they could see in one afternoon – waterfalls, a boardwalk over a beaver marsh, and walks along the Towpath Trail that follows the historic Ohio & Erie Canal.
There are thousands of more stories like his from visitors coming from states throughout the country and from other counties who want to visit National Parks.
Creating Positive Experiences in Ohio's National Park
For 22 miles the Cuyahoga River twists and turns and lives up to the name that Native Americans gave it – Ka-ih-ogh-ha, or crooked river – through the Cuyahoga Valley National Park. Last year, 2.4 million people visited the park bearing the river's name, some from as far as Russia, Australia, and China, along with stateside visitors from as far as California, Alabama, and Connecticut. They came into the park by car, camper and RV, school bus and tour bus, and toured it by scenic railroad, bicycle, or on foot.
In 1995, less than 1 percent of visitors came from out-of-state. By 2015, that had grown to 20 percent, making Cuyahoga Valley National Park a major portal for tourism in the northeast Ohio region.
Regularly among the top 12 most-visited of the 59 national parks in America, Cuyahoga Valley National Park lacks a full-service visitor center. A visitor center is a critical service for all park visitors to understand how to utilize the national park.
In a 2009 consultant study confirmed the need for a central visitor center in the park. In 2012, the project was brought before the National Park Service Development Advisory Board, which gave formal permission to proceed, contingent upon successful fundraising.  In February 2013 the NPS signed a formal Memorandum of Intent with the Conservancy, authorizing the Conservancy to proceed with fundraising.
Conservancy's Role in the Project
The National Park Service cannot complete this project alone. Raising the funds to acquire and develop the visitor center needed to be a public-private partnership, because federal budget realities make it impossible for the National Park Service to undertake this project on its own.
The Conservancy has a philanthropic mission to strengthen and provide support for the park. The Boston Mill Visitor Center will enhance all visitors' experiences in Cuyahoga Valley National Park. To date, 95 individuals, corporations and foundations have partnered with the Conservancy and CVNP by donating a total of $6.4 million for the $6.5 million project. The Conservancy is grateful for donors' belief in the importance of this project and the positive impact it will have on the region's economy.
Project Status
The project broke ground earlier this week, on January 8, in the heart of Ohio's national park at a historic company store in the town of Boston. The center is next to the Cuyahoga River and centrally located at the intersection of Boston Mills and Riverview roads.
As of now, more than four local firms have been hired to work on the visitor center. The main 3,600 square-foot building will host indoor exhibits, while an outdoor pavilion and courtyard will provide visitors with park information and resources 24/7.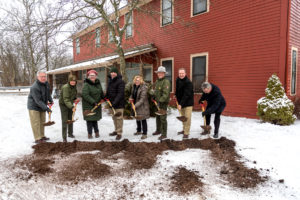 Photo Ted Toth NPS, (From left to right): John P. Debo, Chief Development Officer, Conservancy for CVNP; Jennifer Vaserhelyi, Chief of Interpretation, Education & Visitor Services, CVNP NPS; Patty Stevens, Directory of Capital Projects, Conservancy for CVNP; Scott Wagner, Associate Contractor, Regency Construction Services; Deb Yandala, Chief Executive Officer, Conservancy for CVNP; Craig Kenkel, Park Superintendent, CVNP NPS; Christopher Bach, Project Manager, Peninsula Architects; Bryan Kinnamon, former Conservancy Board Member and current Volunteer Liaison.
Fast Facts
Location: SE corner of Riverview and Boston Mills roads, Village of Boston
Budget: $6.5 million
Timeline:
2017: Planning & design
2018: Groundbreaking & construction
2019: Planned opening