NPS / DJ Reiser
Events Calendar

Dinner & Concert at Happy Days Lodge: Alla Boara
April 26 @ 7:00 pm

-

9:00 pm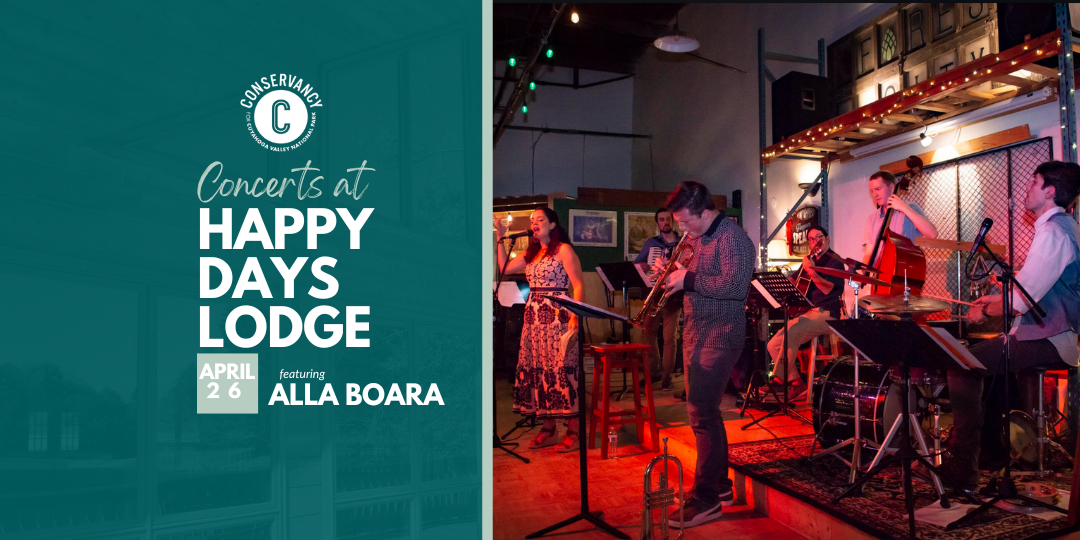 Join us Wednesday, April 26, 2023, to see Alla Boara live at Happy Days Lodge! Celebrate spring with a special date night with hors d'oeuvres and dinner provided by Spice Catering Co., dessert by Luna Bakery & Café, and a tasting of Italian wines before the concert.
About Alla Boara
Alla Boara's dynamic music and storytelling aims to inspire audiences of all ethnic heritages to treasure their musical roots and consider historical songs' contemporary cultural relevance.
Vision of drummer and composer Anthony Taddeo (Helen Welch/Hey Mavis), Alla Boara also features vocalist Amanda Powell (Apollo's Fire), guitarist Dan Bruce, trumpeter Tommy Lehman, bassist Ian Kinnaman, and accordionist and keyboardist Clay Colley.
Alla Boara has received critical acclaim for its originality and accessibility and was recently featured in La Gazzetta Italiana and predicted to have a bright future by Cleveland Magazine. Alla Boara features a robust outreach curriculum suitable for adults and children alike and offers a set of more traditional music that can bring the right atmosphere to any Italian themed dinner or wine-tasting.
Dinner Menu by Spice Catering Co.
Hors D'oeuvres
Local seasonal vegetables with garden compesto, caramelized onion + herb dips, and hummus served with za'taar toasted pita, house crackers and crostini
Entrée Buffet
Wood-Grilled Airline Chicken Breast with Herb Garden Jus
Shiitake + Scallion Toasted Orzo
Lemon Honey Sesame Rainbow Carrots
House-made Herbed Focaccia and Whipped Amish Butter
Mini Desserts provided by Luna Bakery & Cafe
Dark Chocolate Brownie, Caramel Nut Bar, Apple Oat Bar
Chunky Cookies: Chocolate Chip, Oatmeal Chocolate Chip, Ginger Spice, Triple Chocolate Sea Salt
Note: Vegan option available upon request prior to event.
Doors open at 5:30 PM for Dinner | Music begins at 7:00PM
TICKETS
Dinner & Concert: Conservancy Members: $95 | General Admission: $110
Concert Only: Conservancy Members: $20 | General Admission: $25
Buy Tickets Now
VENUE
Open Seating | Cash Bar