NPS/Jim Peaco
Cuyahoga Connections: Animals in Winter
Welcome to Cuyahoga Connections, Animals and Wintertime
This installment of Cuyahoga Connections is all about animals in the wintertime… including humans!
Snow or no snow, there's one thing we know… winter impacts the daily lives of animals. How do animals in Cuyahoga Valley National Park adapt to the winter? What happens to fish when water freezes? Who travels south? What is hibernation? How can humans safely enjoy the park in the winter? Answer all these questions and more!
Don't forget to reach out to us with questions, comments or to share your experiences and completed journals by sending an email to connect@forcvnp.org or tagging #forCVNP on your social media posts!
I Promise is a book all about being true to yourself and your community. Written by Lebron James, this inspiring book highlights how succeeding in this world is a team effort. It's about working together toward love, unity and perseverance. Sharing the name of the school he funded, I PROMISE focuses on being your best self.
"I promise to stay true, keep my head up, and never give up …. No matter what."
"I promise to dream big and love bigger. To be a team player and a winner."
"I promise to use my voice and stand up for what's right. And when things get tough, to keep up the fight."
Part of Akron Public Schools, the I PROMISE School targets youth who are falling behind and in danger of slipping through the cracks. The school recognizes that parent participation creates a supportive environment in the classroom and at home. The Family Resource Center provides support to students and their families.
What is one promise that you would like to make to yourself?
The Camping Trip that Changed America: Theodore Roosevelt, John Muir, and Our National Parks
By Barb Rosenstock
(Available at Trail Mix Peninsula, online purchasing options coming soon!)
The Camping Trip that Changed America is a beautifully illustrated children's book about the value of outdoor space. Set in Yosemite Valley, the story takes you on a camping trip with naturalist John Muir and President Theodore Roosevelt. The result of the trip is a deep friendship and the preservation of Americas public lands.
"There can be nothing in the world more beautiful than the Yosemite, the groves of the giant sequoias and redwoods, the Canyon of the Colorado, the Canyon of the Yellowstone, the Three Tetons; and our people should see to it that they are preserved for their children and their children's children forever, with their majestic beauty all unmarred." -Theodore Roosevelt
Known as the Conservationist President, Theodore Roosevelt's legacy is the creation of the United States Forest Service, the establishment of 150 national forests, 51 federal bird reserves, 4 national game preserves, 5 national parks and 18 national monuments. During his presidency he protected approximately 230 million acres of public lands.
If you could preserve something forever, what would it be?
Journal 5 helps children think about how animals adapt to winter weather patterns. What's the difference between migration and hibernation? How do fish handle living in a frozen pond? Activities include writing a poem about snowflakes, comparing and contrasting what seasons look like from your window and our favorite, a bird migration comic – it just needs you to color the images and fill in the dialogue!
Send your completed journal to us connect@forcvnp.org or post photos online and tagging us #forCVNP
Download the journal here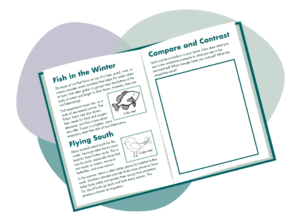 Challenge
This challenge is all about health and wellness, and super simple. Here's the scoop:
Screenshot or print out the trail checklist found here (and also below this list)
Start hiking/biking/walking/running/jogging/exploring! Each time you visit a trail on the checklist, snap a photo and email it to connect@forcvnp.org or post it on social media using #forCVNP by February 18.
After submissions are collected, three lucky random people will be selected to win their choice of a CVNP calendar (to use to schedule your future hikes & resolutions!) or a Parks for All HydroFlask!