Photo: Andrew Gacome
Cuyahoga Connections: The Winter Solstice and CVNP's Birthday
Welcome to Cuyahoga Connections, Winter Solstice and CVNP's Birthday
Here in northeast Ohio, many of us have already had to find the snow shovels and dig our way through the first snow of the season. From building snowmen to exploring snow-covered trails, the new season brings unique experiences just waiting to be uncovered. Volume four of Cuyahoga Connections is all about exploring these winter-themed activities. Learn about the winter solstice, how humans and animals adapt to the snow and what we can do to really enjoy the season!
Don't forget to reach out to us with questions, comments or to share your experiences and completed journals by sending an email to connect@forcvnp.org or tagging #forCVNP on your social media posts!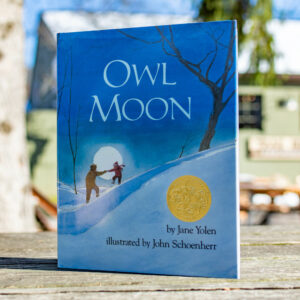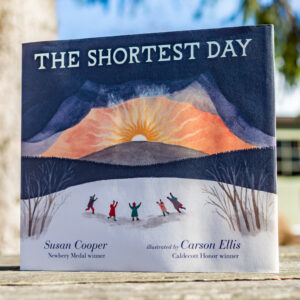 Written by Jane Yolen, Illustrated by John Schoenherr
Whoo-whoo-whoo, cozy up this holiday season with a classic. This beautiful and captivating story follows a small child and father owling in the woods late at night. They trudge through the snow, animals watching them as they pass, as the father calls to the mysterious nighttime bird. Owl Moon is a magical story, surely to the perfect gift for any child in your life.
Owl Moon is available online and at Trail Mix Peninsula.
Written by Wendy Pfeffer, Illustrated by Jesse Reisch
The winter solstice is coming up this year on December 21st, and this book is the perfect way to celebrate! The Shortest Day uses cozy imagery and informative storytelling to explain what the winter solstice is and how it has been observed by various cultures throughout history. Young listeners are shown the ideas of ancient Egyptian, Chinese, Incan, and European astronomers, and how interpretations of the scientific wonder have shaped our modern cultural traditions. This book helps to explain important science concepts to young audiences, such as the Earth's tilting away from the sun and the shift from autumn to winter. Everyone will be sure to learn something new!
The Shortest Day is available online and at Trail Mix Peninsula.
Learn about the Winter Solstice and how it is celebrated around the globe! If you were to have your own Winter Solstice celebration, what would it look like? How would you celebrate? We'll also look at the science of shadows and conduct our own experiments right in our own yards. What will you discover during this Winter Solstice?
Send your completed journal to us connect@forcvnp.org or post photos online and tagging us #forCVNP
Download the journal here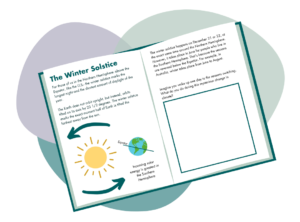 Celebrate the Park's "Birthday"
On December 27, 1974, your national park was officially designated as CVNRA – Cuyahoga Valley National Recreation Area. If you'd like to learn a little bit more about the history of your national park, and the history of the Conservancy, check out this feature on Sue Klein, A Pioneer for CVNP. This was a monumental step for the park that we now know as Cuyahoga Valley National Park and is certainly something worth celebrating!
Help us celebrate the "birthday" of your national park! Submit your creations on social media using #HappyBirthdayCVNP or email them to connect@forcvnp.org – we'll even randomly select a few to win prizes!
Here are some ideas to get you started, but any and all creations are welcome:
Virtual card
Poem
Short Story
Reflection
Photo/Photo collage
Painting/Drawing
Play/Musical
Song
Video
Get Involved
View a Once in a Lifetime Astronomical Event
Gazing into a clear night sky evokes many feelings—a sense of peace, oneness and astonishment. On December 21, 2020, we will be able to gaze into the southern sky and witness the solar system's two largest planets appear to merge, creating the first visible "Christmas star" in 800 years.
If conditions are right, this event can be seen from home, but visiting Cuyahoga Valley National Park offers quiet, secluded views to make the night feel even more miraculous.
The Great Conjunction
About once every 20 years, Jupiter and Saturn's orbits align. Both planets have a much longer journey around the sun than the Earth. Jupiter takes 12 years to complete the trip, and Saturn takes 30 year—over twice as long as Jupiter! Because of this, Saturn is lapped by Jupiter every couple decades. As we near the end of 2020, we are poised to witness an event last seen in 1226. During this convergence, the planets will align so closely that they will appear to form a double planet.
On the night of the winter solstice, the two planets will be just 0.1 degrees apart. That's less than the diameter of a full moon. The planets will appear to overlap completely in what astronomers refer to as a conjunction, or the meeting of objects in the night sky. Jupiter and Saturn are the two largest planets in our solar system, making this conjunction even more extraordinary!
How to Watch the Event
During the last great conjunction, Jupiter and Saturn were so close to the sun that observing them was difficult. This year, it will be much easier to see as the celestial event will be shining bright just moments after sunset. When viewed from the Northern hemisphere, the conjunction will be visible low in the southwestern sky.
Although the highlight will be on December 21, the planets are easily viewable throughout the month, and onlookers can watch each day as the planets drifter closer. Jupiter currently appears brighter than any star in the sky and, though slightly dimmer, Saturn can be easily recognized from its golden glow. Unlike stars that twinkle, both planets hold a constant level of brightness, making them easier to spot on clear nights.
For the best views, it's important to find an area away from the light pollution of cities, which makes CVNP perfect! Locations like the Ledges Overlook and the Pine Hollow trailhead at Kendall Hills are ideal because they offer unobstructed views of the southern sky.
Whether from the comfort of your home or a scenic clearing in the park, take a moment to search the sky for this once in a lifetime view.