DJ Reiser
Cuyahoga Connections: Women's History and the History of Cuyahoga Valley National Park
Welcome to Cuyahoga Connections, Women's History and the History of Cuyahoga Valley National Park
This instalment of the Cuyahoga Connections explores women's history and the history of Cuyahoga Valley National Park. Read about a young girl who finds inspiration from history to explore the world of science, journal about the impact of others on the park we know and love today, and then lace up your shoes and challenge yourself to hike some of the most history-rich parts of CVNP!
Don't forget to reach out to us with questions, comments or to share your experiences and completed journals by sending an email to connect@forcvnp.org or tagging #forCVNP on your social media posts!
Rosie Revere, Engineer encourages young women to explore the world of science. Rosie is a young girl who loves to collect interesting items and engineering them into amazing devices. When her great-great-aunt showed up with a dream to fly, Rosie created a flying machine that flew for just a moment. Crushed by the failure, her great-great-aunt reminded her that she had indeed succeeded – it flew! The moral of the story, "The only true failure can come if you quit."
Rosie's great-great-aunt worked on airplanes during World War II. Known as Rosie the Riveters, these women worked in factories to support the war effort. Today, a Rosie the Riveter Home Front National Historic Park in California explores and honors the efforts and sacrifices of American civilians on the World War II home front.
What is your dream job?
Journal About It!
Farming and canals and industrial booms, oh my! Cuyahoga Valley National Park is overflowing with history. Journal Seven gives an overview of just a few of the many important events that shaped the park we know today. How can we learn from the past and use that knowledge to create a better future?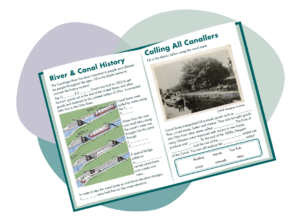 Challenge
Time to lace up your shoes and take a hike! Pick three of the five different Towpath areas listed below that are cool historical points and share your reflections/photos with us on social media or connect@forcvnp.org.
Towpath at Canal Exploration Center/Lock 38 to Tinkers Creek Aqueduct is where you can explore pieces of Ohio and Erie Canal History! Lock 38 is one of the only operational locks in Northeast Ohio, and Tinkers Creek Aqueduct is where you can check out how canal boats maneuvered over creeks and rivers.

Canal Exploration Center: 7104 Canal Road, Valley View

Botzum Trailhead – Head out on the Botzum leg of the Towpath to drink in some forest views and learn more about the generations of farmers that lived off of the land in Cuyahoga Valley. Learn more about the history of the Conrad Botzum Farmstead here.

Botzum Trailhead: 2928 Riverview Road, Akron

Lock 29/Peninsula Depot – Check out the unique intersection of 2 important parts of CVNP's history – the Ohio & Erie Canal and the railroad. This part of the towpath features views of the river, the historic Peninsula Depot and a canal lock to explore.

Lock 29: 1648 Mill Street, Peninsula 

Deep Lock Quarry – This Summit Metro Park site along the Towpath gives you the chance to check out one of the quarries where builders mined stone to construct parts of the Ohio & Erie Canal.

Deep Lock Quarry: 5779 Riverview Rd., Peninsula

Hunt Farm – Explore more farming stories from history on the Hunt Farm portion of the Towpath. This southern area of the park is where you can see farmland that is still being used today – a unique feature of CVNP – and provides quick access to Szalay's Farm and the gorgeous Indigo Lake.

Hunt House: 2054 Bolanz Road, Peninsula 
Get Involved!
Cuyahoga Valley National Park has a rich history of working with partner organizations to preserve, enhance, and enrich the landscape and visitor experience.  Partner organizations support the park through a wide range of activities and provide diverse opportunities to get involved with CVNP.  These organizations have their own unique stories and history, and all work together towards the larger mission of the park.  The three main partner organizations are the Conservancy, Countryside, and the Cuyahoga Valley Scenic Railroad.  Read on to discover a brief history of Countryside and CVSR, and how to get involved in their volunteer operations.
Countryside
Countryside's mission is "to build a thriving local food community by connecting people, food and land in and beyond Cuyahoga Valley National Park."
There are centuries of rich agricultural history in the valley. From the earliest days of Indigenous peoples, to the first European settlers – this valley was lush and bountiful; and its river brought life and opportunity. Across the U.S., industrialization changed how America farmed and ate. Small farms suffered greatly from this progress and began to fade from the landscape.
Countryside, a nonprofit working in partnership with Cuyahoga Valley National Park, was founded in 1999 by Darwin Kelsey to help the park find solutions to a big problem – the disappearing rural farmland in the park. Together, historic farmsteads were rehabilitated to conserve these pastoral and cultural resources that dot the countryside of the valley, a program aptly named the Countryside Initiative. Though the first request for proposals for Countryside Initiative farm leases were only distributed in 2001, there were over a dozen farm properties restored and 10 are currently leased to privately operated farmers who participate in the land tenure program.
After resuscitating farms, there was a clear need for community and support to surround these new enterprises. In 2004 the first Countryside Farmers' Market opened in Cuyahoga Valley National Park at the Heritage Tree Farm, allowing direct consumer access to the Countryside Initiative Farms. This market moved to Howe Meadow in 2009, and soon expanded to Akron. Markets are hosted year-round, providing the community with access to locally produced foods and products. The farmers' markets are community builders and economic impact drivers, serving over 80 small businesses and 50,000 consumers each year.
No conversation about the food system would be complete without talking about lack of access and equity. In 2009 Countryside launched food access programming, allowing Farmers' Markets to accept SNAP and offer Produce Perks, a matching incentive for the purchase of locally grown, fresh produce. They also accept WIC and Senior Farmers' Market Nutrition Program Vouchers and nutrition incentives for WIC clients.
In 2018 Countryside launched its new Farmer Academy, a multi-year program that creates paid career pathways for interns through classroom style education in the principles of sustainable agriculture, technical training, business and financial planning, and supportive working relationships with beginning farmers. Participants leave the programs "farmland ready," with a clear vision of the agricultural business they wish to create and the tools they need to make it happen.
Countryside provides a unique volunteer experience within CVNP, with positions ranging from Farmers' Markets assistants, office help, and special events. To learn more about volunteer opportunities with Countryside, visit their volunteer page.
Cuyahoga Valley Scenic Railroad
Cuyahoga Valley Scenic Railroad's mission is "to provide educational, recreational and heritage railroad experiences and to provide alternative transportation to and within Cuyahoga Valley National Park and the Ohio & Erie Canalway."
The Cuyahoga Valley Scenic Railroad's route along the Cuyahoga River has been a transportation hub since the first Indigenous People used in around 12,000 BC. It allowed travel upstream by canoe to an 8-mile portage trail that led to the Tuscarawas River, and from there to the Ohio and Mississippi Rivers. Because of its importance, it was deemed neutral territory for all passing tribes. As the Cuyahoga Valley became settled by Europeans the river became a focus for a canal, and eventually a railroad. In 1880, the Cuyahoga Valley Line began service from Cleveland to Canton.
In 1972 Cuyahoga Valley Line was incorporated as a non-for-profit organization, and 3 years later began operations powered by a steam engine, just a year after the valley was established as a National Recreation Area.
In 1985, 26 miles of track in the park were abandoned, and by 1987 Cuyahoga Valley had secured the purchase of the track. With Cuyahoga Valley Line able to resume train excursions through the National Recreation Area, they entered into a cooperative agreement, formalizing the partnership for excursion passenger rail service in the park.
By 1991 Cuyahoga Valley Line had launched more excursions and was hosting themed event trains. In 1994 the organization rebranded as Cuyahoga Valley Scenic Railroad, their name to this day. CVSR remains a partner with CVNP, as they provide a unique experience for visitors and have great historical significance. They provide diverse programming throughout the year for all ages, and recently launched the Explorer program which offers discounted transportation through the park for hikers, bikers, runners, and kayakers.
Like the other partners, CVSR is powered by their large and dedicated volunteer force. In 2000 when Cuyahoga Valley National Park was established, CVSR began tracking volunteer statistics. In 2018 they surpassed the 1 million hours of volunteer service mark. Volunteers assist in many ways, from servers, to maintenance workers, to highly trained conductors.
To learn more about volunteer opportunities with CVSR, visit their volunteer homepage.