Exhibit
Bees, Bugs, and Butterflies: Pollinating Along the Cuyahoga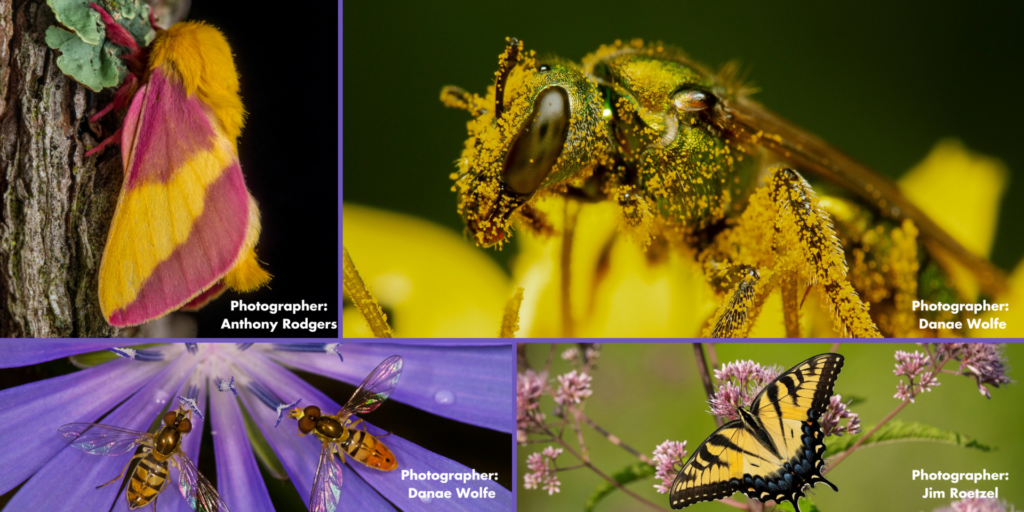 Celebrate Ohio Pollinators with a new traveling exhibit: Bees, Bugs, and Butterflies: Pollinating Along the Cuyahoga. Learn more about the featured photographers, including Danae Wolfe of Chasing Bugs and Anthony Rodgers below.
Exhibit is presented by Community Life Collaborative and Cuyahoga Valley National Park, and made possible by generous support from Akron Community Foundation, Northeast Ohio Regional Sewer District, Ohio Arts Council, and Tinker's Creek Watershed Partners.
Reception Celebrating Exhibit
June 2
4 – 7pm
Exhibit On Display
June 3 – Sept. 3
Gallery Location
1565 Boston Mills Rd
Peninsula
Hours
Friday – Sunday (starting June 3)
11am – 3pm
Artists in Exhibit
Jerry Cannon
After Jerry Cannon retired from his career in the telecommunications industry in Akron, he turned his interests toward photography, a long-time area of fascination. Over the last decade, this self-taught photographer has pursued his passion non-stop as a second career. He works primarily in Summit Metro Parks. His captivating and diverse images soon came to the attention of metro parks staff. They frequently feature Jerry's work on their social media pages and other communications. Jerry's wide collection of images includes native insects, birds, and landscapes plus other flora and fauna. His aim is to delight and to help people discover the wonders waiting to be explored in their own parks, backyards, and other green spaces. His work helps Summit Metro Parks connect with its audiences and uncover a world that is often difficult to see.
Jim Roetzel
Jim Roetzel is an Ohio native who has lived in Summit County his entire life. He has photographed all over the US and Canada, following nature's rhythms, migrations, and seasons. His work regularly appears in nation and local publications including Audubon, National Parks, Ohio, Smithsonian, and Time-Life. In 2005, Jim co-wrote his first book, Cuyahoga Valley National Park: A Photographic Portrait, with renowned photographer Ian Adams. He wrote Birds of North America in 2007 using nearly 250 of his own images. In 2008, he and photographer Jim Zipp created Birds of New England. Jim Roetzel taught photography with the Hudson City Schools for 30 years, has led workshops for 20+ years, and leads tours from Alaska to Florida. His work formed our 2021-2023 traveling exhibit, Wings and Voices of the Cuyahoga: How Birds Connect Us. jimroetzel.com
Danae Wolfe
Danae Wolfe is a macro photographer and conservation educator. She officially launched Chasing Bugs in 2015, although her organization's seed was planted as early as 2010. Danae began photographing nature as a young girl. Her love for the natural world bloomed during her first environmental studies course in college. At the same time, she received her first macro lens as a Christmas gift. That lens, paired with a newfound passion for environmental education, changed her artistry and her view on insects and spiders forever. Danae uses her photography, public speaking, and writing to teach about the beauty, diversity, and importance of these small creatures. Her website is full of backyard stewardship and macro photography tips. Danae provides workshops and talks throughout the region. chasingbugs.com
Anthony Rodgers
Born and raised in Cuyahoga County, Anthony Rodgers has a life-long interest in the natural world. He has local expertise in assessing wetlands, surveying snakes, and studying beetles. Currently he teaches high school science in Cleveland. As a photographer, Anthony's favorite subjects include the insects, birds, wildflowers, reptiles, amphibians, and fungi native to Northeast Ohio. He challenges himself to continuously add to his toolbelt of photographic skills: experimenting with macro, wide-angle, light, composition, and freezing birds in flight. Anthony's images help inspire and educate his students about the ecology of the world around them. His first published print image was in The Nature Conservancy's fall 2021 issue. Follow his Instagram page to see his work. @Platydracus
Denny Reiser
Denny Reiser taught math and science for 30 years in Bay Village and Aurora. For six years, he was a seasonal ranger at Cuyahoga Valley National Park, frequently leading school groups. Later, he spent more than a decade as a volunteer photographer. His work can be viewed throughout the national park, in its gift shops, in many publications, and online. Denny is also a Summit Metro Parks volunteer, an Ohio Certified Volunteer Naturalist, a member of the Ohio Bee Survey, and a certified Volunteer Pollinator Specialist through The Ohio State University. Denny provides history and nature talks on a wide range of topics, using his storytelling and photographic skills to engage and inspire. His work was included in Crooked River Contrasts, our first traveling exhibit.
Jeffrey Gibson
Jeffrey Gibson is a retired biology teacher from Revere High School who has photographed nature extensively within the Cuyahoga River watershed. He earned first place in the Ansel Adams International Photo Contest and has been published in National Geographic. Jeffrey's images have been displayed at the Cleveland Institute of Music, University Hospitals, Cleveland Hopkins Airport, and other community spaces. They are part of permanent exhibits at the national park, 41 have been featured in the park's annual calendar over the past decade, and some appeared in a multi-media park tribute performed by the Akron Symphony Orchestra. Seven of Jeffrey's photos are murals at Woodridge Elementary in Peninsula and two are murals at Summa Cardiac Rehabilitation Center in Akron. Jeffrey is a regular vendor at regional art events. crookedriverimages.com