Dessie Sanders, Principal of Cleveland Municipal School District, reluctantly seats herself into a kayak for her students' amusement.
The kids cheer with delight; Seeing their principal in this setting is something they are unused to.
Ms. Sanders and her students are participating in the Summer Environmental Education Academy, an immersive, life-enriching educational experience.
The grant-funded, donor-supported program intends to increase students' academic success in high school, with a long-term goal of improving high school graduation rates and enrollment in post-secondary education. The students in this program come from Akron Public Schools (APS) and the Cleveland Metropolitan School District (CMSD) who are entering 9th grade.
This summer, Sanders brought five schools from her district. She says for many of the students, the Summer Academy is a place where, for the first time, they experience fishing, kayaking, or being away from home.
"They watch the news or see other people on TV doing these things but not even imagine that they'd be out here doing it," Sanders said.
Not only are students experiencing activities for the first time, but they're also creating meaningful connections with each other and caring adults. Students in the program get to build relationships with staff members of their school who then follow them into their freshman year.
Carla Sibley, director of community relations for Akron Public Schools, said that the Summer Academy provides students with a mentor who can help navigate high school by connecting them to resources and facilitating connections with staff.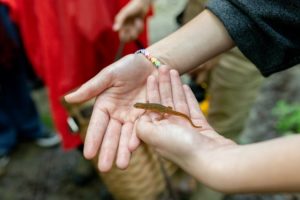 "They get to know these people who are ultimately going to be providing support for them throughout the school year," Sibley said. "So they go into the school year knowing another caring adult, and we know caring adults is one of those protective factors."
Zemoria Parnell, a CTAG (Closing the Achievement Gap) specialist at East Community Learning Center, believes that building relationships with the students is one of the best parts of the program. CTAG is program that identifies and supports ninth graders at Buchtel and East Community Learning Centers and Kenmore and North High Schools who are falling behind and at risk of dropping out of school. The CTAG program specialists participate in planning, training, and attend every day of the program with the students.
"Now they know there's a person they can come to if they ever have a problem or something else is going on," Parnell said. "And that's huge."
Janice Thurman, also a CTAG special at Buchtel Community Learning Center, agrees.
"The experience they have here at the park gives them a sense of belonging," Thurman said. "The students really adore the staff here, and they adore the experience that they get within the park."
~ ~ ~
Although the Summer Academy gives both school districts immersive experiences, the goals for each are a little different. APS students participate in a two-week day program that is curriculum-based. The curriculum has been vetted and approved by the school board and meets the criteria to be a credit-based program. APS students can earn a half credit if they have perfect attendance.
Alternatively, CMSD students participate in a one-week residential program that is meant to provide psycho-social support by meeting new people, making friends, and being independent, while also experiencing different ways to engage with the National Park.
While the two districts have different goals, the Summer Academy ultimately ends in the same result. Program Manager Amanda Shuster says being in Cuyahoga Valley National Park makes kids more confident and strengthens their interpersonal skills.
"On the first day, there is often a level of intimidation—fear of insects, or discomfort with hiking or walking. By the end, we see their comfort level rise," Shuster said. "This could be something as simple as less swatting and panicking about insects, but also is demonstrated through increased engagement in outdoor activities. For example, this year many students from one particular group were reluctant to hike and raised many complaints about being outside. By the end of the program, these same kids were begging for more time outside, and all participated fully."
~ ~ ~
Program Coordinator and Camp Instructor Tara Orzechowski watches as one of the kayaking children flips overboard into the lake, and she laughs as he gets right back in with a smile on his face.
"I love watching how much the kids transition and how much fun they have," she said. "The smallest moments that adults often take for granted can be so magical to our youth, which is a very infectious feeling."
The infectious feeling seems to be common among field instructors at the Summer Academy. Jonathan Parker shared one of his favorite moments as a field instructor this year –a hike at the Ledges.
"Some of the students had never really done much hiking and were very skeptical at first," Parker said. "Once we arrived at the Ledges Overlook, they were so amazed by the view, and we spent at least ten minutes taking pictures and sitting there. Afterwards one student said, 'that was really worth it.'"
~ ~ ~
On the last day of his Summer Academy experience, one Cleveland student said, "I love to be here. It's like I'm home."
Reactions like these are what drive the Conservancy to provide transformative experiences at the Cuyahoga Valley Environmental Education Center –but we couldn't do it without members like you who support us every step of the way.