As we head into a new year here at the Conservancy, we're continuing to work hard for Cuyahoga Valley National Park and expand our work in new ways. Thank you for being part of our community as we worked toward accomplishing key initiatives in 2018, from reaching our fundraising goal for the new Boston Mill Visitor Center to introducing thousands of students to the park for free.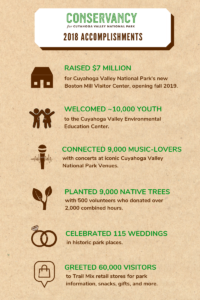 Read more details about our accomplishments in 2018 below!
Boston Mill Visitor Center
Raised $7 million for Cuyahoga Valley National Park's new Boston Mill Visitor Center, opening fall of 2019.
We thank the more than 550 individuals, foundations, and corporations in the Cleveland/Akron metropolitan area who have collectively donated $7 million to build a new visitor center in the heart of Cuyahoga Valley National Park. The Boston Mill Visitor Center will be a one-stop resource where local and out-of-town visitors alike can begin their exploration of the national park and Ohio & Erie Canalway.
The history of Cuyahoga Valley National Park is rooted in the passionate support and generosity of people who came together in 1974 to push legislation to protect the threatened Cuyahoga Valley. Once again, our community has stepped up, and soon we will be welcoming visitors to a new, state-of-the-art visitor center located in the Village of Boston.
"We are so fortunate to have the natural beauty of Cuyahoga Valley National Park in our backyard. The new Boston Mill Visitor Center will introduce this park and serve as a "front door" to its many beautiful hiking and biking trails, ledges, waterfalls, caves and so much more. We're excited to be part of a project that will help people from all over the world create memorable experiences." -Angie & Mick Remen
Environmental Education
Partnered with Old Brooklyn Community Development Corporation to create Crooked River Exploration Camp.
A non-traditional Community Development Corporation, Old Brooklyn's strategy focuses on community health and education. The five-day summer camp provided first through fifth-grade students outdoor adventures in Old Brooklyn and Cuyahoga Valley National Park. Activities included scavenger hunts, paddle boarding, neighborhood hikes, hikes in the CVNP, and games. All activities centered around learning about urban and natural ecosystems.
Formed a collaboration with TomTod, a Canton-based non-profit committed to empowering middle school students to launch unconventional ideas to enhance the common good.
The Education Center welcomed 17 students for a 5-day overnight experiential education adventure in Ohio's national park. On the final day, students gave presentations about real-world ideas based on knowledge and experience gained from their park experiences. Creative ideas were abundant – from crafts made from recycled materials to securing donations to build drinking wells in sub-Saharan Africa. Back at TomTod, the students will bring these ideas to life with help from a mentorship program that will assist them with acquiring volunteers, money, or additional knowledge.
Welcomed 28 vanguard high school students from Pakistan and the Dominican Republic through Learning Streams International.
Prior to coming the national park, the students were immersed in developing expertise and creative thinking skills needed for innovative, imaginative solutions to issues around global warming. At Cuyahoga Valley National Park, the students spent 5 days immersed in learning about our watershed and how climate change affects the park and activities being done to mitigate impacts through habitat restoration.
"I never knew national parks had so much to offer. Every day at CVNP offered something new to learn and aspire to. The history, infrasturcture, resilience and conservation projects were an eye-opener for many of us. Working with the Conservancy team has to be one of the best experiences I've ever had. I feel honored to be a part of the CVNP family, even if it was for a few days." – Maria Amir
Collaborated with Wick Poetry Center to offer Wick Juniors Writing Club campers a three-night, four-day experience. Through guided hikes, pond dips and more, budding young writers explored how the cultural world influences our writing.
Expanded our partnership with Philippe Cousteau Jr. and his organization EarthEcho International, by participating in World Water Monitoring Day and recording a featured program with Brains ON, an American Public Media production.
Concerts & Music
Connected 9,000 music-lovers with concerts at iconic Cuyahoga Valley National Park venues.
"It's really cool to see a funk band playing in a national park. We enjoy our time here so much and the atmosphere is always great." -Melissa Stellar (right)
Volunteering
Planted 2,000 native trees with 500 volunteers who donated over 2,000 combined hours.
"Volunteering gives everyone a common goal and brings us together. It allows us to appreciate nature, too. We're here pulling invasive species, but we also get to see what the park has to offer." – Judy Zhang
Trail Mix Stores
Welcomed 60,000 visitors to Trail Mix retail stores for park information, snacks, gifts, and more.
"Every day I'm surprised by the people from all walks of life who come to Trail Mix. No paycheck could ever replace the feeling I get from helping them have a great experience for a park I feel so passionately about." – Gene Stepanik
Extraordinary Spaces
Celebrated 115 wedding in historic park spaces.
"CVNP is very sepcial to us. We don't want to take for granted this beautiful gift nature has given us in our backyard. To us, asking our wedding guests to support the Conservancy in lieu of wedding gifts was very simple. And we'll indirectly benefit from any gifts to the Conservancy when we spend time in CVNP." -Kim & Derek Drayer
2019 Goals
Education Center curriculum redesign, created in an a la carte fashion, will allow teachers to select the educational programs they need to enhance their classroom teachings.
Implementing new cutting-edge technology at the Education Center that enhance the students' immersive nature experiences:
In the field, students will begin utilizing new equipment for advanced water quality testing. Through a partnership with Earth Echo International, they will share their data with scientists across the globe.
Digital recording equipment will allow students to share what they are learning and discovering through communication mediums they commonly use like YouTube.
New stream tables and an augmented reality sandbox will enhance hands-on opportunities for students to learn about topography and watersheds.
Distance learning opportunities and ability for students to stay connected with us throughout the school year will be developed with new communication technology.
Volunteer program will begin planning over 2,000 trees at a new site located on Snowville Road just west of Riverview Road.
Organization-wide, we will strive to become ZERO WASTE. Our vision is to ensure that no trash generated by the Conservancy will be sent to landfills or incinerators.
Continue to provide top-notch programming and fundraising for every corner of Cuyahoga Valley National Park.
Thank you for supporting Cuyahoga Valley National Park and making our shared dreams a reality.