There is a plethora of things to do with your kid in Cuyahoga Valley National Park, and we want to make sure you are taking full advantage of them! Check out this top 10 list of ways you and your child can explore our national park this summer.
1. Junior Ranger Programs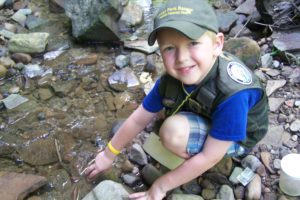 Join your child on a variety of free ranger-led hikes and learning experiences in the national park throughout the summer. Junior ranger programs give children an opportunity to experience their park hands-on. –whether it's going on a geology scavenger hunt around the ledges, or taking a closer look at the teeth and trails of critters that live in the park.
Children who attend 2 Junior Ranger programs will earn a Junior Ranger badge, and those who attend 4 programs will earn a Junior Ranger patch! To see a full list of Junior Ranger programs, click here>
2. Picnic in the park
Whether you need a large area for a family gathering or an intimate spot for just you and your child, you'll love picnicking in the park! There are picnic areas scattered throughout CVNP, and you can view a list of them here. Don't forget to stop off at one of our Trail Mix stores to grab some Mitchell's ice cream afterwards!
3. Take family photos
CVNP is an excellent place to take some unique photos of your children in a beautiful, natural environment with diverse beauty. Some great photo locations include Tree Farm Trail, which includes the picturesque Indigo Lake, Kendall Lake, and Everett Covered Bridge, which has been listed on the National Park Foundation's Top 10 List of Photographic sites on public lands in 2006.

4. Attend a summer day camp
Have your child discover the wonder and beauty of our national park by signing up for one or more of our uniquely designed Summer Day Camp experiences. You can send your child to one, two or three day camps in Cuyahoga Valley National Park this summer and stay sharp over the break. From hands-on science at a Jr. Ranger camp, to a week of acting at Theater Camp, your child will enjoy the time spent in their national park. Check out all of our summer camp offerings here>
5. Hop on board the Cuyahoga Valley Scenic Railroad (CVSR)
Explore the beauty of CVNP on a train! Take part in day-long trips, themed rides, Bike Aboard program, and night time tours. Visit the CVSR website to find something perfect for you and your child to experience together.
This weekend, Thomas the Trail welcomes passengers of all ages to ride and enjoy a day out with the whole family. Learn more and find tickets here>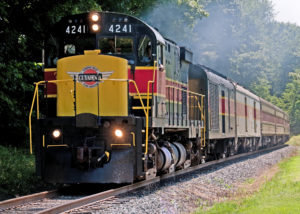 6. CVNP Tot Trek
Join a ranger for this series of short walks for little ones as you explore the wonders of nature! (Tuesdays, June 12 – August 28 from 10 – 11 am | Locations vary (see CVNP calendar)
7. Listen to campfire tales at the Ledges Shelter
Play games on the lawn with your child and then light the campfire and share some good old-fashioned campfire tales. Don't forget to bring a blanket and a picnic dinner! (June 28; July 5, 12, 19, and 26 at 7 p.m. | Family activities begin at 6 p.m. | Ledges Shelter)
8. Explore the Beaver Marsh
Bring your child and join a ranger for an easy walk along the firm, flat Towpath Trail to learn about this very special wildlife habitat. You might even spot a beaver! (Sundays and Wednesdays, June 10 – August 29 from 7 – 8 p.m. | Ira Trailhead)
9. Volunteer on National Trail Day
National Trails Day is the largest trails volunteer event of the year and provides a great opportunity for participants of all ages and experience levels to contribute to keeping CVNP beautiful. Read more and register here>
10. Download a citizen science app on your phone
Download apps like iNaturalist or eBird and take a hike with your child. While on the CVNP trails, try to identify as many different plants, insects, animals, or birds as you can!
We will leave you with this wilderness word search you and your young one can do together! For more fun activities you can do on your own, visit https://www.nps.gov/kids/jrrangers.cfm.