Oak Hill & Plateau Trails
At A Glance
Intersecting trails for a variety of skill levels, passing several picturesque ponds. Oak Hill Plateau NPS Map
These intersecting trails are well worth a visit, particularly for hikers and cross-country skiers. Oak Hill is the shorter of the two and is aptly named, forested with hemlocks, oaks, cherries, hawthorns and maples The longer, 4-plus Plateau Trail loop around Oak Hill, in contrast, was originally intended for cross-country skiing but accommodates hikers and runners as well.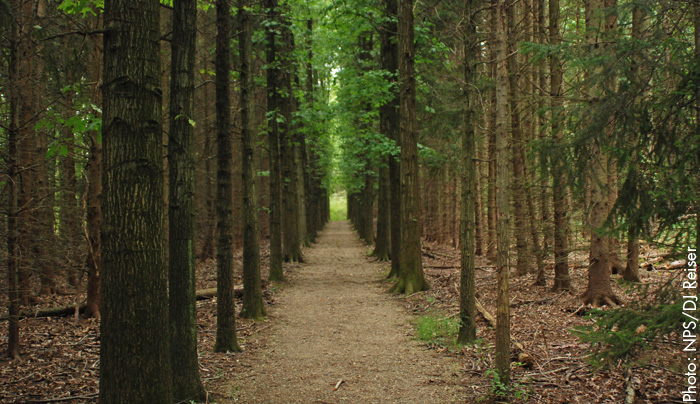 Directions
Take I-77 north to I-271. Exit at State Route 303, and continue east until you hit Major Rd. Turn right on Major Rd., then proceed approximately 1 mile to Oak Hill Rd. Turn right on Oak Hill Rd.; the trailhead entrance is about 1 mile in on the left-hand side.
What Makes it Great
This is one of the more beautiful views in the autumn. A well-timed visit in October will give viewers a palate of orange, red, rust and maize that will blow minds. Meadowedge and Sylvan Ponds are likely to stop you in your tracks if only to watch the flitting waterfowl buzz in and out. There's a reason why these loops have come to be embraced by hikers: Plateau's challenging terrain is a nice value-add for hikers looking for a bit more than what Oak Hill can offer.
Who Is Going to Love It
Hikers, cross-country skiers and perhaps a trail runner or two who can't get enough of the autumn leaves. Bring your camera to capture some of the tree-lined vistas. And don't forget your lunch: There's a nice picnic area there that can be accessed from these trails. One more quick head's up: in the summer and early fall, this trail can get buggy, so make sure you carry plenty of insect repellant, or lather up before you arrive.