By Dan Wilson
It was a sunny winter day in 1994, and my cousin, my dad, and I were making our way up to a brush pile, eager to see if our beagles would flush a rabbit out past one of our shooting lanes. As the baying of the beagles reached a fever pitch, my heart nearly leapt out of my chest as I scanned the brush pile for a flash of a gray torso or a white tuft of hair. Instead of the 15-18 inch cottontail rabbit darting out of the multi floral rosebush, a 200 pound mature whitetail buck burst out of his hiding place 10 feet from where I was standing. Witnessing not only the sheer power and grace of these animals, but the survival instincts hardwired into their every move, captivated me.
This giant buck was willing to let me nearly step on him before he betrayed his presence. Formative experiences like these can cement a child's love of the outdoors early in his or her life and greatly affect environmental view. My father was a dentist, but he loved nature and the outdoors. He purchased 220 acres of land in rural central Ohio where he raised cattle for more than 30 years. His father was a hunter, and his grandfather was a lifelong hunter. In fact, most African Americans are one or two generations removed from an outdoor lifestyle.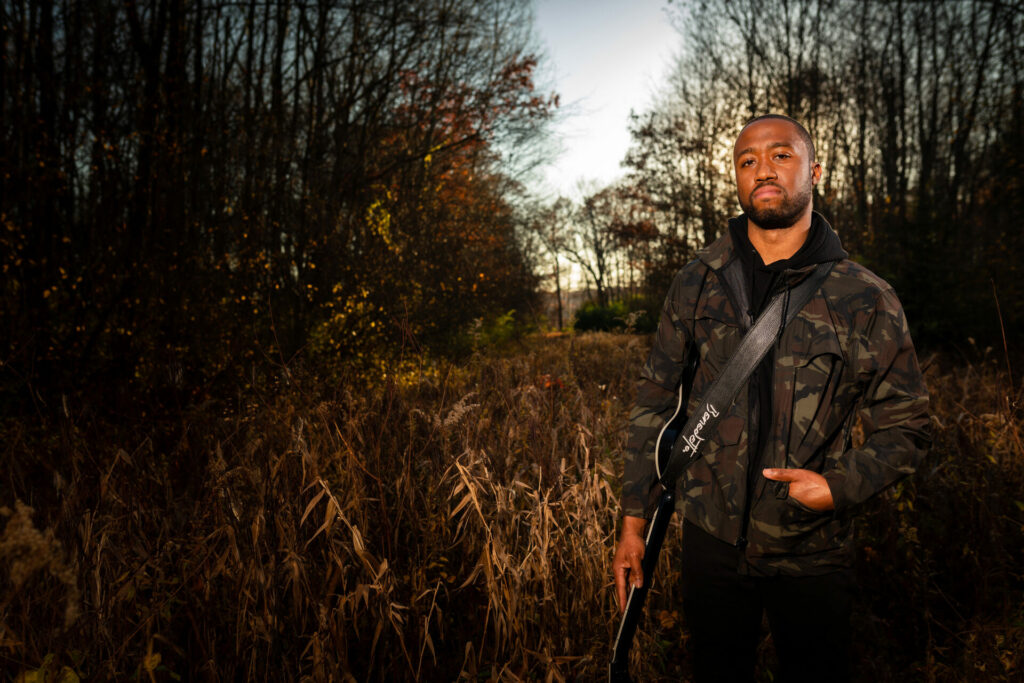 Black families fleeing racial persecution arrived in urban areas in droves during the Great Migration. However, exclusion of African Americans from outdoor activities preceded urbanization. After the Civil War, aggressive legislation was enacted to bar Black people from activities such as hunting and fishing because it represented independence from the existing White power structure. This history is chronicled in the book, Hunting and Fishing in the New South: Black Labor and Whites Leisure after the Civil War by Scott E. Giltner.
My great-grandfather was prevented from going to school by having to sharecrop on the plantation where his family was owned. A marksman early in life, he was often given a certain number of bullets by his father and expected to return with the corresponding number of squirrels, rabbits, or game birds to supplement his family's diet. He left home at 13 years old, disillusioned with exploitation of his family at the hands of the plantation owner. Thankfully, he preserved his love of the outdoors and passed it on to my grandfather, my father and uncles, and I plan on passing it to my children.
For many African Americans, this link has been severed by a history of racial violence and exclusionary legislation. As a result, many of us view outdoor activities such as hiking, hunting, fishing, and kayaking as "White" pastimes. This viewpoint is only partially accurate because it lacks historical context. I consider myself fortunate to be raised in an environment where it was safe to participate in these activities due to my father owning land. Still, I have had my share of harrowing experiences with people who were not thrilled with me sharing outdoor spaces with them, and I'm usually met with shock after telling people how much I love wildlife, hunting and the outdoors.
My great-grandfather, grandfather, father, and my uncles participated in outdoor activities in spite of racial intimidation. I strongly believe the path toward inclusion must be cleared as intentionally as it was obstructed. I'm very encouraged by organizations such as Hunters of Color, an organization committed to "fostering a more equitable and inclusive community for hunters." Black Women Explore is a great local group that encourages Black Women to enjoy their right to experience the national park system. Outdoor Afro is another organization I've been following founded by CEO Rue Mapp that "celebrates and inspires Black connections and leadership in nature." Supporting and raising awareness of organizations like these through donations and social media are a step in a promising direction of repairing a severed connection between the Black community and the land.
Dan Wilson is a Grammy-nominated jazz guitarist and avid outdoorsman based in Akron, OH. You can find him at danwilsonguitar.com and @danwilsonguitar on Instagram.