Photo: Stephanie Hendrixson
Invest in Your Trails
Trails Now: Bridle-Hiking Trail Fund
Through The Trails Now: Bridle-Hiking Trail Fund, managed by the Conservancy for CVNP, donors can provide financial support that will enable the National Park Service to make much-needed improvements to bridle-hiking trails in CVNP. A generous donation by The Ray and Jan Dalton Family Foundation launched the establishment of this fund. The Dalton's gift, paired with individual gifts, and volunteers from the Medina Chapter Ohio Horsemen's Council resulted in successful repairs to the Valley Bridle Trail, Langes Run and Wetmore Trail.
This year, Ray and Jan Dalton have generously extended a $100,000 matching gift for the repair and maintenance of three additional bridle-hiking trails. The park will begin work on the Valley South Trail, Riding Run Trail, and Perkins Trail in spring of 2022. Ray and Jan will match your gift dollar for dollar up to $100,000!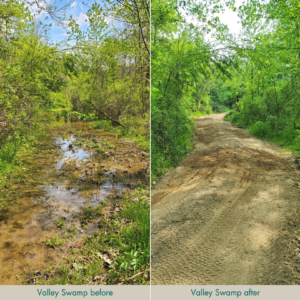 Work that will be made possible through this new fund includes:
Repairing bridle trail surfaces
Installing armored crossings
Repairing/cleaning trail bridges
Cleaning/installing trail drainage features
Improving trail signs
Please join us in the opportunity to raise an additional $100,000 for bridle-hiking trail improvements, benefitting the riders, hikers, runners, joggers and walkers of Northeast Ohio who enjoy them.
For more information, please contact:
Director of Philanthropy Dan Blakemore at dblakemore@forcvnp.org 330.657.2909 ext. 133
VP of Philanthropy Sheryl Hoffman at shoffman@forcvnp.org or 330.657.2909 ext. 143.