Tom Jones
Cuyahoga Connections: Health and Wellness
Welcome to Cuyahoga Connections, Health and Wellness
This edition of Cuyahoga Connections teaches us about how our health as individuals is connected to the health of our parks and our communities. Learn how spending time outdoors benefits your health, how patterns in nature can repair the brain, and how to practice mindfulness. Challenge yourself to try new activities in the park this fall and use our activity tracker to see how much time you're able to spend outside. Most importantly—enjoy this beautiful season!
Don't forget to reach out to us with questions, comments or to share your experiences and completed journals by sending an email to connect@forcvnp.org or tagging #forCVNP on your social media posts!
Recommended Reading
I Promise is a lively and encouraging picture book that reminds us that tomorrow's success starts with the promises we make to ourselves and our community today.
This book is geared to young learners aged 4-8, but has the power to inspire children and adults of all ages to be their best. It features James' upbeat, rhyming text as well as vibrant illustrations by New York Times bestselling artist Nina Mata—perfectly crafted for a diverse audience.
Whether paired with our monthly challenge, or read together at home, in school or in the park, I Promise is great motivational resource!
Journal About It!
What does mindfulness mean? What are fractals? And why does your body feel better after some time outside? Read about each of these topics and record your thoughts in this month's journal!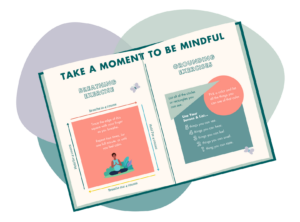 Challenge: Get Outside and Enjoy Nature!
Some of our other Cuyahoga Connections activities have been rather challenging, but this time, our only requirement is to go outside and enjoy the splendor that is Ohio's natural scenery!
When cooler temperatures hit, sometimes it's easier to grab your favorite blanket and stay on the couch than it is to go outside. It might even be a struggle to pull away from your screens and say hello to the Sun while you soak up some vitamin D. But spending time in CVNP by hiking, biking or just simply being outside can lead to significant benefits in physical and mental health.
We've created this challenge to have four different levels:
15 hours (30 minutes a day)
30 hours (60 minutes a day)
45 hours (90 minutes a day)
100 hours (create your own pace)
Included are tips on where to go in your national park and ideas of how to spend quality time this month doing outdoor activities. We even created a nifty Fall Activity Tracker for each level to show how much time you've spent outdoors so far! So, whether you choose to complete this October challenge on your own or connect with a nature buddy—grab your apple cider and head outside!
View List of Activities
Download Fall Activity Tracker