By: Mariah Alanskas, student at Kent State University
A composition of small pixels form trees as an immersive scan of the Greenwood Village in Cuyahoga National Park shimmers across the screen. In the background, sounds of the current weather patterns, improvised piano notes and the words of Indigenous peoples and scientists play as the installation moves around the trees, like a bird in flight.
The exhibit "Among Relatives: Indigenous Voices in the Cuyahoga Valley " is made through a collaborative effort between creator and Kent State University professor Aviva Avnisan and multidisciplinary artist Leila Khoury. It is a project that combines technology and art to give a voice to the area's first settlers: Northeast Ohio's Indigenous people.
The exhibit centers around eight conversations Avnisan and Khoury conducted with Indigneous people and scientists from the area. The interviews were conducted at the national park in the Greenwood Village, a place that holds spiritual remnants of its pre-colonial inhabitants.
"Every single person on this video is just incredible and has amazing stories," Avnisan said. "And just to spend time with them and learn a lot was really a great experience."
The project started in 2021 when the national park reached out to five artists to create work in relation to what they do and what they would possibly be interested in creating. Avnisan and Khoury's work is featured in both a visual, immersive experience and in a fine art book available for viewing and purchase at The Gallery until Dec. 16, 2022.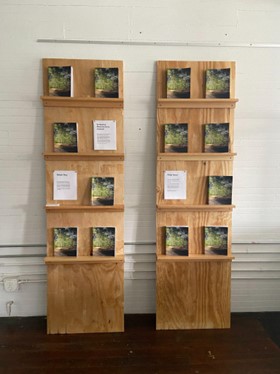 "There was this cohort experience where as a group of five, we came to the park and had people come speak to us," Avnisan said. "And one of those people is Kimberly Madison who was interviewed, and she spoke to us about the Indigenous perspective on national parks. So we reached out to her first once we came up with our project idea and then we started the interviews."
By using a lidar scanning technique and custom software, Avnisan created a haunting iteration of "the ghosts of the pasts" by scanning the area for a continuous eight hours to provide a time-lapsed, trancing installation.
"Visually the way that I'm thinking about it is on one hand, this is a photographic process that's photorealistic," Avnisan said. "But on the other hand, as you can see, it's very calm. It's very sort of haunting and ephemeral and otherworldly."
As Digital Media Productions professor Kathryn Cooper looked upon the exhibit, she concurred with Avnisan on the piece's emotional evocation.
"It's so hauntingly beautiful," Cooper said. "It makes me think a lot about environmental change, and you know the trees, which are still here, but how we lost a lot of our natural environment. It's just mesmerizing and it definitely makes me think very deeply about what we're losing in terms of the environment."
The environment plays a big part in the installation as the sounds you hear are reflective of the in-time weather conditions.
"So basically, there's a software program that's listening to the weather and then sending commands to the software Ableton to play this clip, or play this clip or lower the temperature, or lower the tempo or whatever," Avnisan said.
The software Avnisan uses allows for what she considers to be a "contemplative, yet chaotic" reflection of the work.
"It's amazing that she was able to put together that software," Cooper said. "That's so cool that it reflects the actual weather. The fact that it's changing and that it's a new experience, every time and for every person really makes it feel like a living piece of art and not a static one."
When mixed with the visual, the audio is meant to highlight and add to the immersive experience, not to take away from the featured voices.
"For me this is so much about honoring Indiginous wisdom and trying to share that with audiences that may not otherwise be exposed to it or choose to expose themselves to it," Avnisan said.
Sources:
Aviva Avnisan: anowitz@kent.edu
Kathryn Cooper: kcoope41@kent.edu