Saturday, August 25 marks the 102nd birthday of the National Park Service. Here at the Conservancy, we're honored and proud to partner with this long-standing American institution, which protects and preserves our country's most beautiful and historic places.
To celebrate this milestone, we've put together a list of 102 things to do in YOUR national park right here in Ohio. Discover a new CVNP adventure today!
1. Visit CVNP for the first time!
2. Wake up at dawn to see the otters at Beaver Marsh.
3. Ride the East Rim mountain bike trail.
4. Volunteer at a Day of Service.
5. Go to the Countryside Farmers' Market.
6. Go for a scenic ride on the train.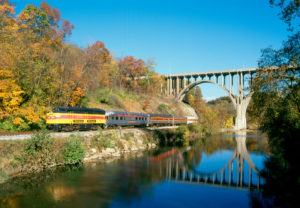 7. Help your national park thrive by becoming a member of the Conservancy.
8. Go for a full moon hike in CVNP.
9. Have a unique dining experience by attending a Dinner in the Valley.
10. Read how CVNP came to be.
11. Give a gift in honor of someone special.
12. Have a meeting or retreat at the Stanford House.
13. Take a selfie and tag #forCVNP #FindYourPark.
14. Go for a family-friendly hike.
15. Share your park story with us at info@forcvnp.org.
16. Go to a local food swap.
17. Visit the remarkable Brandywine Falls.
18. Become a Junior Ranger.
19. Visit the only remaining covered bridge in Summit County, the Everett Covered Bridge.
20. Sponsor an acre in CVNP to help preserve, protect, and enhance Ohio's national park.
21. Pick berries at Greenfield Berry Farm
22. Give back to your park by volunteering.
23. Go camping in your park.
24. Cycle the Towpath Trail.
25. Get ice cream at Trail Mix.
26. Get Every Kid in a Park.
27. Get your toes tapping at a CVNP concert.
28. Tag your photos #FindYourPark.
29. Dance in Howe Meadow.
30. Go on a ranger-led hike.
31. Visit the latest gallery exhibit at the Conservancy's headquarters.
32. Go to Canal Exploration Center.
33. Bike from Red Hunt to Peninsula.
34. Plan an accessible visit.
35. Take a break in the Village of Boston, then read about its history.
36. Walk your dog on the trails.
37. Enjoy activities at Hunt House.
38. Ride a Grape Escape
39. Pick a trail to run, walk, hike, or bike on.
40. Join the park's Photographic Society.
41. Show off your best pictures of CVNP by entering a photography contest.
42. Help children make memories at camp by attending Clambake
43. Take your class to the Education Center.
44. Buy a locally made gift.
45. Take a class on small farming.
46. Challenge yourself to hike 100 miles in 100 days.
47. Learn about the types of food grown in CVNP, then enjoy a meal highlighting local growers.
48. Sip wine at Sarah's Vineyard.
49. Go birding at Station Road Bridge.
50. Host a big celebration in your park.
51. Hike at the Ledges, then enjoy the view at the overlook.
52. Find a program for you child at the Education Center.
53. Run 26.2 miles at the Towpath Marathon.
54. Experience the Polar Express.
55. Find a cool winter activity to do in the park.
56. Go skiing (cross country or downhill).
57. Wander down to Blue Hen Falls.
58. Read about the gifts CVNP can give you.
59. Ride the train with a kid for free in August.
60. Drive the Scenic Byway.
61. Learn about rocks that are older than dinosaurs and where to find them in CVNP.
62. Run one or all of the Towpath Trilogy.
64. Grab a compass and go orienteering.
65. Enjoy Ales on Rails.
66. Organize a group volunteer day with your office.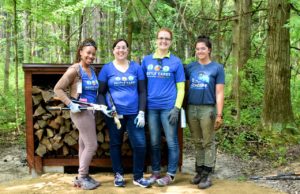 67. View the best sunrises.
68. Bike one way, take the train
69. Smell the evergreens.
70. Boast that the park is in your backyard.
71. Go on a Canalway Quest.
72. Have dinner at Spicy Lamb Farm.
73. Shop at Highland Square Market.
74. See a great blue heron.
75. Spend the day on the Towpath Trail.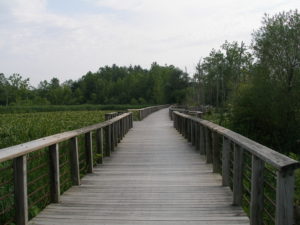 76. Reserve a picnic shelter.
77. Discover CVNP history.
78. Read poetry in the beauty of the park.
79. Watch painted turtles in CVNP's wetlands.
80. Go to class with Countryside U.
81. Get married in your national park.
82. Listen to jazz in the park.
83. Hike on a challenging trail.
84. Stargaze at Oak Hill.
85. Kayak north from Boston.
86. Enjoy a concert at Hines Hill Center.
87. Bring your group to stay the Education Center.
88. Go horseback riding.
89. Earn a Girl Scout
90. Dine a la fresco in CVNP.
91. Follow blue blazes on the Buckeye Trail.
92. Have a girls' night out at Women in the Wild.
93. Have a blissful moment by doing yoga in the park.
94. Make a difference in your national park as a student.
95. Visit a CCC-era building.
96. Go fishing at Indigo Lake.
97. Discover immersive experiences with the Cuyahoga Valley Institute.
98. Push a canal lock gate.
99. Tour a farm in CVNP.
100. Walk in a creek.
102. Find hidden gems in Cuyahoga Valley National Park.
There is a plethora of things to do in Cuyahoga Valley National Park! Make sure to share your story with us on Facebook, Twitter, or Instagram.